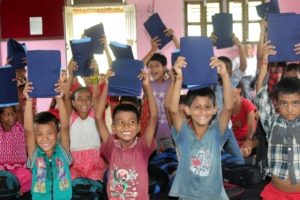 Two years ago Abhishek Bayalkoti, an 8-year-old student of New Vision Learning Center, Bidur-6, Inarpati migrated from Dhading to Nuwakot district with his family. In his family, he has one elder sister, father, and a mother. He studying in class 3, in chwadi higher secondary school. His father is in India working as a labor and his mother works as a labor in the construction site of Nuwakot.
They don't have their own land to produce food, so they depend on daily wages for their daily bread. Every day his mother go to the work early in the morning and come late in the evening. His parents don't have enough time to take care of them. So, Abhishek didn't show interest in reading, writing and used to fight and speak bad words with other children.
When CarNetNepal started New Vision Child Learning Centre in his place, his mother learned about it from the New Vision Church members and started to send her son to the CLC. CLC teacher teaches him with love and respect and developed his skills in doing homework and involved him in extra curriculum activities like playing football, singing, dancing etc. CLC provides him all the necessary school materials and one-time snack every day. Now, Abhishek has left his habit of fighting and using bad words but play with his friends and do homework with his friends in a group.
In August 1, CarNetNepal has distributed school uniform materials to the 35 children of New Vision Child Learning Center. After getting his school dress, Abhishek expressed his happiness and said that he and his mother are very happy to get the uniform cloth, he needed them from a very long time but due to his family poor condition his mother is unable to buy them for him.
Abishek mother told that CLC is a great help for her child. Because of CLC her son is learning the importance of education and are able to go to school regularly. She is grateful to CarNetNepal for running such program in New Vision Church. She said before I don't have any idea on what kind of people Christian were but now I knew they are the most humble and helpful one. She expressed her desire to attend church service in coming days.