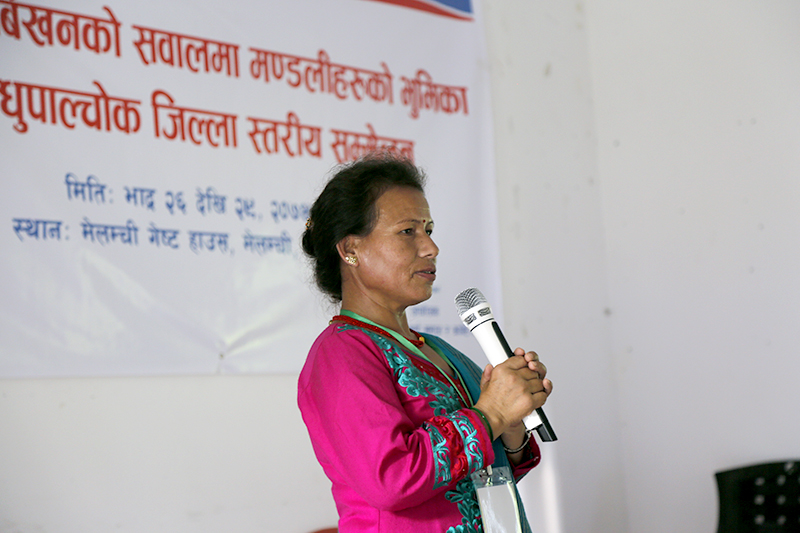 Human trafficking in Nepal is a growing criminal industry affecting multiple other countries beyond Nepal, primarily across Asia and the Middle East. Nepal is mainly a source country for men, women and children, subjected to forced labor and sex trafficking. Within Nepal, Trafficking victims are often taken from rural areas to the urban centers. Mainly young girls and women are trafficked for sexual exploitation in places such as cabin/dance restaurants, massage parlors and other places within tourism sector. However, these spaces also host many women who entered sex work voluntarily but were later not allowed to leave and end up in slave-like conditions.
The trafficking of girls from Nepal into India for forced prostitution is perhaps one of the busiest slave trafficking routes anywhere in the world, with estimated 5,000-10,000 Nepali women and girls trafficked to India each year. An estimated 100,000-200,000 Nepali trafficked persons are in India.
According to a report published by the Ministry of Women, Children and Social Welfare (MoWCSW), in 81 percent of the 181 cases of human trafficking recorded by police in fiscal year 2014-15. As many as 212 cases of human trafficking were reported to police in fiscal year 2015-16. Five years ago, the number of cases filed with police stood at 118. The national report released by the National Human Rights Commission in 2016 stated that around 16,500 Nepali citizens, mostly unmarried women and children, were trafficked in the past two years.
In response to growing human trafficking industries and to envision local churches of Sindhupalchowk to respond Human Trafficking issues in their local areas, CarNetNepal in association with Sindhupalchwok Chirstian Society, TearFund, UMN and Micha Nepal has organizes district level 'Anti Human Trafficking Thinking Theology' (AHTTT) conference in Melamchi Bazar, Sindhupalchowk. The conference held between 11- 14 September, 2017 focused on the 'Call of Church' to address the human trafficking issues, 'seeking transformation in the broken world' and 'Reintegration: Being part of God's Mission to reach those in need.'
106 (Male: 89, Female: 17) Pastors and Leaders of more than 50 churches of Sindhupalchowk from 6 different denomination have participated in the training. These four days conference not only explore the biblical perspective in response to human trafficking but also challenges the participants to raise their voice and take action against the human trafficking activities being in the body of Christ.
During the conference 11 facilitator from various organizations (TearFund India, Tearfund Nepal,UMN, Tiny Hand, Justice Venture Intl., KI Nepal, Higher Ground, Mukti Network) and 3 human trafficking survivors have confront the real situation of human trafficking in Nepal and the response of society towards the survivors of human trafficking. According to Chari Maya from Shakti Samuha, "A large number of people still have not been able to muster the courage and say they have been victims of trafficking due to stigma associated with it. We need to reach out to them and provide them rehabilitation programmes,"
Indira Ghale from Mukti Network said, "Traffickers are often originate from the same places or localities from where girls and women are trafficked. They are both men and women, and most often they were people the victim knows such as neighbors, relatives, friends, and even parents. The conference made the participant realized that trafficking is not only in the case of girls but boys also have the chances of being trafficked."
Mira Tamang (name changed), one of the survivor of human trafficking shared her darkest period in the brothel of India. Tamang said, I was kidnapped from my hometown by the unknown people and sold to the brothel of India. I was raped, beaten, threaten, penalized by the people whom I worked for and even tried to kill myself. I went through hell. I was rejected from my own people but I was lucky enough to get help from the Christian community, who accept me the way I am. Now I am healed. The damage no longer control me from sharing my experience to aware other would be victims of trafficking."
"The conference focused on the holistic restoration of the human trafficking survivor. From rescue- restoration to reintegration, the conference encouraged the participant to unite to fight against the human trafficking issues and act as one body in chirst, serve the survivor of human trafficking and engage themselves with a broken world." said Tearfund- India, Country Representative, Prince David.
Rev. Dr. Dilip Chhetri from Nawajeevan Church, shared from the bible that how important it is to build in one body of Christ to defeat every sinful act of Satan. Church are called to replace the darkness by the light of God. Church should play an important part to eradicate the ill practices of society and restore the survivor of human trafficking."
The conference was able to left it's impact to the participants and encourage them to share their learnings and help them to make their upcoming action plan on addressing human trafficking issues. Ps. Sailendra Moktan, Chairperson of Sindhupalchowk Christian Society said that the conference was able to bring more than 100 church members of various denomination for the first time in Sindhupalchowk to aware them on human trafficking. This conference help us to have more clear view on human trafficking and the importance of church to address the issues. Now we are encouraged to form a Christian network to fight back against human trafficking in Sindhupalchowk."
AHTTT Conference Participants After Thought…