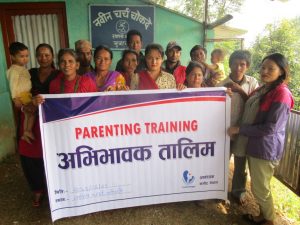 In October 15, 16 & 17, CarNetNepal have organized one day 'Parenting' training to the parents of three different Child Learning Centres' (CLC) of Nuwakot.
42 parents (Male: 13 & Female: 29) from Nuwakot AG CLC, Nabin CLC and Jyoti CLC have received the training on 'Child Friendly Environment', 'Child Right to Education' and 'Hygiene and Sanitation'. Sanu Maya Tamang- CarNetNepal Community Mobilizer and Ram Prasad Pudasaini- Pastor of Pipaltar AG Church, Nuwakot have facilitated the training.
The training aims to create child friendly environment in the homes of the CLC students, enhancing parent's knowledge on the importance of education and encourage them to send their children regularly in schools to minimize the possible risk of vulnerability and taking care of their children hygiene and health.
35-year-old, Indira Khatiwada, one of the trainee parent said that the training help her to understand the importance of sending her two daughters to the school and nurture them properly to protect them from the possible risk of trafficking and abuses. She is committed to support her children for the education in every possible way for their better future. Her two daughters Anuska and Anjali are enrolled in Nuwakot AG CLC.
In partnership with the local churches CarNetNepal is running four CLC's in Nuwakot. Total 85 children from poor, vulnerable and marginalized community are enrolled in CLCs. CarNetNepal is providing basic stationaries, school uniforms, free tuitions and one time food to the CLC children. CLC aims to encourage child education in the community and decrease school dropout rate.