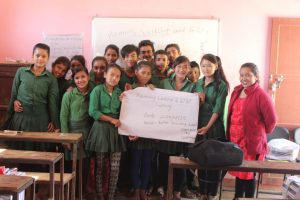 On 11 November, CarNetNepal has organized a planning work shop and Good Touch Bad Touch (GTBT) training to the members of Kalika Child Club and Ganesh Child Club. 37 students (23 girls and 14 boys) and 5 teachers have participated in the workshop and training. The workshop and training were facilitated by Ishwori Senchuri- Project Assistant of Bethany Vision Nepal.
During the first session of the training Senchuri taught the Child Club members about the importance of planning to run Child Club activities smoothly and facilitates them to prepare the monthly activities of Child Clubs. Khem Timalsina- Teacher of the Shree Ganesh Secondary School says, "This kind of workshop and training are organized for the first time in our school. I have gone through our Child Club planning activities and I am really impressed by the kind of activities they plan to implement in coming month. They are planning to organize a cleaning program in school, good drinking water facility and many more. This kind of activities made me more responsible and will encourage our other children for the social activities."
In the second session she taught the Child Club members about child sexual abuse through GTBT toolkit demonstration. The toolkit carries a story of children's, who experienced physical and sexual abuse and the way they protected themselves from the abuser. "Through the demonstration of GTBT flipchart, we have easily understand which good touch is and which bad touch is. I understand that I am important, to get protection is my right, I can get help and I have right to my body. I am able to punish the abusers with the help of the person I trusted more or if I contact in free child helpline no. 1098" says Amrit Thapa- Chairperson of Ganesh Child Club- Grade 9 student.
"Children's are motivated to bring positive changes in their school through Child Club activities and are committed to aware GTBT to their other friends as well." Says Senchuri.