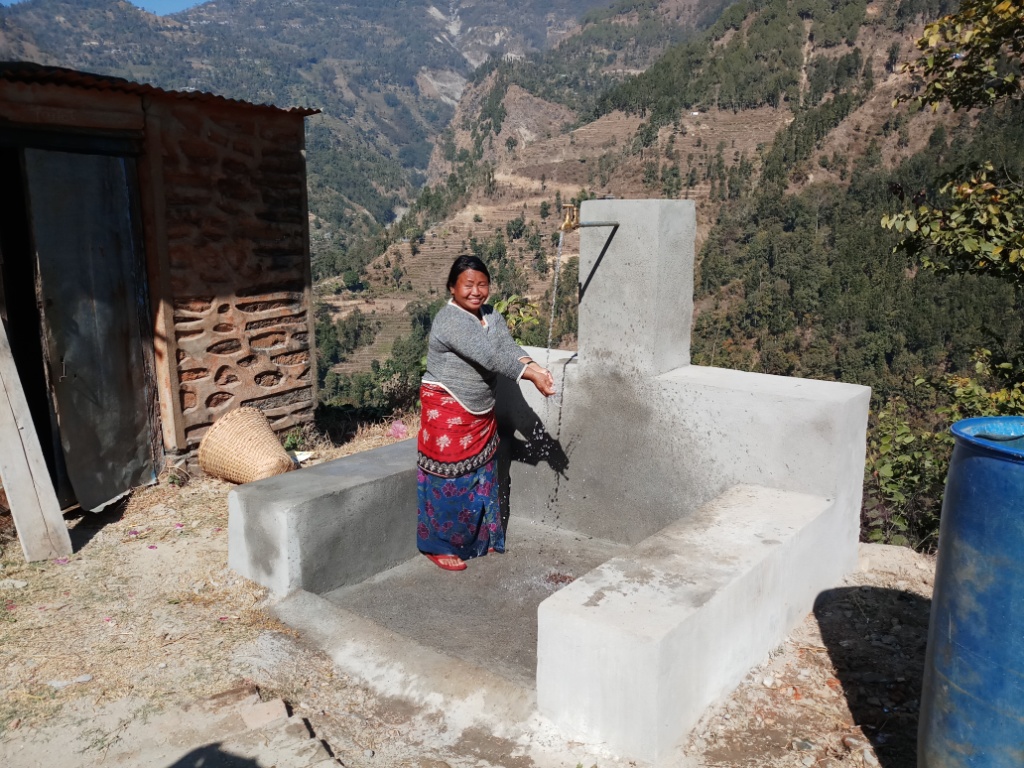 34-year-old Elisha Saru Magar from Kuwapani, Suryagadi Rural Municipality-2, is a member of Mathilo Bhimire Water User Committee. The devastating earthquake of April 25 and 12 May, 2015 had shattered the life of all Nepalese including Elisha's family. The massive earthquake not only destroyed her home, latrines, livestock but all the infrastructures of Kuwapani including school's buildings, water systems, roads etc. The earthquake and its aftershock made Elisha, her husband and three children psychologically traumatized for months.
"During the first earthquake we are in church service. Our church building has collapsed, one of our church leader had injured. When we reached home, all our belongings had already destroyed. We have nothing left for ourselves. At that moment the relief package and psychological first aid treatment camp from CarNetNepal help us to restore in some ways", says Elishas. After earthquake Mathilo Bhimire community people started to live in a temporary shelter. Due to the damage in School Buildings, school were closed for months.
The destruction of Water Systems, have forced the community people to fetched water from 30 to 45 minutes' walk distance places. According to Elisha, "They have to spend hours in the line of drinking water. Sometimes they have quarreled with other members in the line. One members from the family spend half of the day in the line. Due to the damage in the water system, they fetched and drink impure waters. Many of them suffered from water borne diseases and got hospitalized. As they are struggling to restore their own life and property after quake, they were not able to restore the community infrastructure and were expecting and praying for the helping hands to support them to reconstruct the infrastructures."
In May, 2017, CarNetNepal in partnership with Samaritan's Purse Nepal intervene in Mathilo Bhimire to rehabilitate the damage water system and formed 8 members Water User Committee (WUC). CarNetNepal and Samaritan's Purse Nepal have provided training to the members of WUC and other members of Mathilo Bhimire community about the proper use of Water Systems, methods of water purification and on hygiene and sanitation. In December, 2017 CarNetNepal has constructed 11tap stands, main line, distribution line, two reservoir tank, intake wall, fittings, and valve chamber in Mathilo Bhimire.
"Fifteen years ago the water system was built by Gerkhutar Youth Club in our community. When they were destroyed in earthquake, we were worried who will help us to build them again. As we don't have our own resources to build them again and the Government of Nepal and other organization have not included our community in their rehabilitation planning. We are grateful toward CarNetNepal and Samaritan's Purse Nepal, who came and helped us to rebuild our Water System. Now we don't have to walk hours to fetch water. We have taps next to our home and have pure drinking water facility." Says, Elisha.
"When my daughters used to go to fetch water far distance, I was worried enough for them. As I heard many cases of trafficking. Sometimes my children didn't able to go to schools, when they have to stay in the line of the drinking water and most of the time they suffered from diarrhea due to the consumption of impure water. But now I feel happy for them. They don't have to bear such problems anymore."
In Mathilo Bhimire there are around 23 households and 150 people (including 50 children). They are having the facility of safe drinking water.