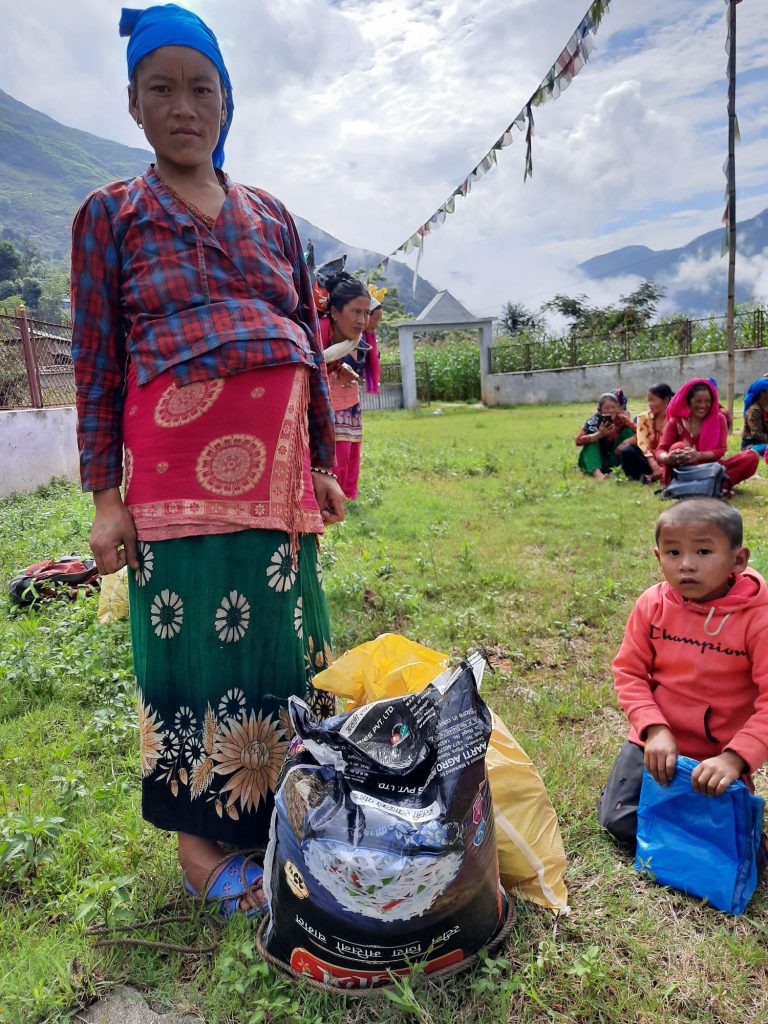 26-years-old, Ms. Sabina Tamang is a resident of Kalche, Tadi Rural Municipality, Nuwakot. It takes 9 hrs vehicle ride from Capital to reach Kalche. It is one of the remote village of Nuwakot Districts. Like other part of Nepal, Kalche also been affected by the covid-19 pandemic and the countrywide lockdown. According to Nakur Dong Tamang-Ward Chairperson of Tadi-1, where Kalche Located, "Except CarNet no other organization come forward to provide relief support to the needy families of Tadi-1". On June 30 CarNet distributed necessary basic food items and personal hygiene kits to 170 HHs of Tadi-1 including 60 HHs from Self Help Groups formed by CarNet in Tadi-1.
Ms. Sabina is one of the member of Himchuli Self Help Group . She is now 7 months pregnant.  On the day of  relief distribution she came to receive relief along with her small son. According to her, " she is living with her husband, 3 sons and one relative.  They work at field and have small piece of land with steep terrain.  The production cannot hold them for 4 months so rest of months, they run the family by working on others field but due to covid transmission fear, now they are not welcomed/ allowed to work on other's field. In this situation they are facing crisis and in acute need of food support."
The time when Sabina heard about CarNet relief support, she hoped to get them. Early morning, She came to the distribution center with her 6 year old son. Along the way she was very anxious thinking whether she get them or not as there are many house holds in her community who are in need of relief support . Finally, Ms. Sabina received  relief food and personal hygiene materials but the difficulty was she can't carry them all, as they are heavy (30 to 32 Kgs) and she is pregnant. Knowing her situation CarNet Programme Coordinator and Ward Chairperson-Nokur Dong Tamang called her relative and he carried the relief items to home.
Ms. Sabina find this gesture very warm as she is not expecting anyone from distributing party to take care of how she will manage to take those relief items in her place. She is grateful, as they are in much need of this support. She has a kind of relief while expressing, "For some time we don't need to worry to feed our children." Sabina is looking forward to better covid free days.