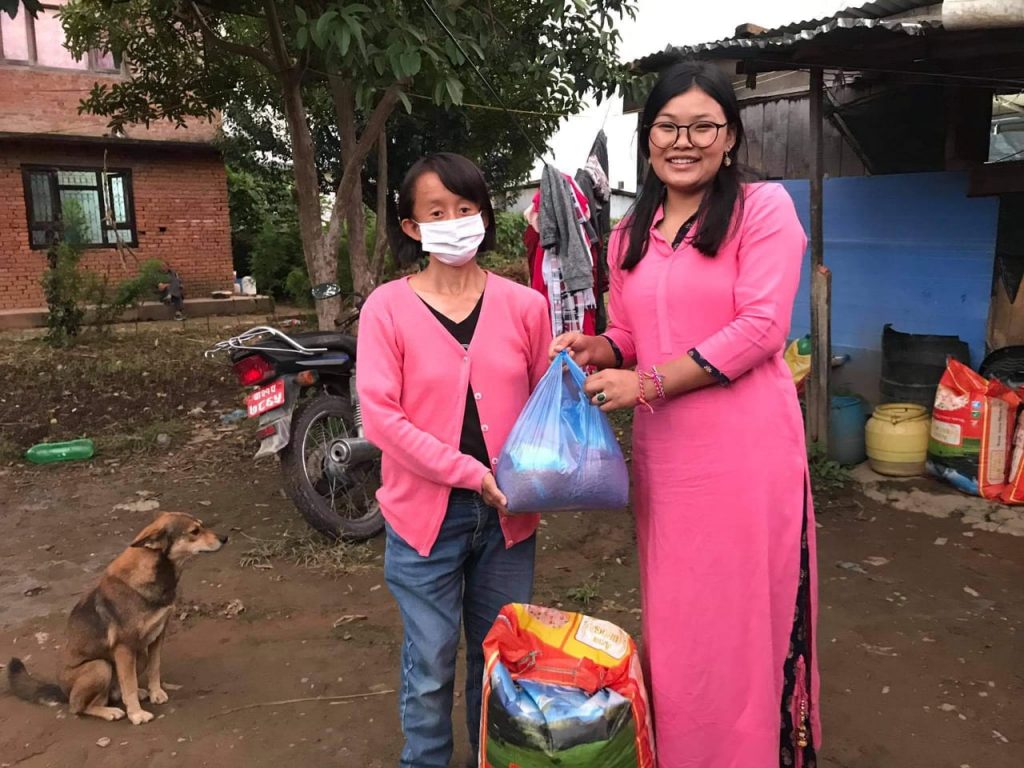 Phone Mentor Anjali Tamang (wearing glass) with Kanchan Thapa during food relief support programme.
Kanchan Thapa is living with her mother, half-sister and half-brother in Kathmandu. Now she is 18 years old. Her parents were separated just after her birth so she was taken care of by her mother and brought to Capital Kathmandu from her village. They are originally from Bhojpur district (eastern hilly area of Nepal).  Kanchan mother (Tulsha Thapa) remarried and have two children from her step-father; one son and one daughter. A horrible incident happened few years back, as her step father found guilty in a rape case and put in jail. Since then her mother Tulsha is the only bread owner in the family.
Kanchan herself is suffering from inferiority complex. She has physical growth disorder, which bothers her a lot. Last year she left her school in mid-session and cut off contacts. She used to sit alone in her room and often quarreled with mother and friends. Fortunately, Phone Mentor- Ms. Anjali a friend of her Knew Kanchan's problem and enrolled her in phone mentoring programme. At first she denied, later on after several calls Kanchan and her mother agreed to join the programme.
It took three weeks to make Kanchan to be opened- up and shared her problems with Mentor Anjali. Kanchan said, "I used to perceive myself in negative way, feel myself worthless and confined." Mentor Anjali commented that It could be due to her stunt body and family background.
After regular conversations and phone mentoring activities, Kanchan built her confidence, feel better and changed her perception on herself. Now she values herself and regards her importance in community. Kanchan started to spend time with family and friends, rejoined her school and performed well in her studies. She passed out grade 10 and now she is in grade XI. Kanchan mother Tulasha is happy with the programme as it brought positive changes in her daughter's life, helped her to know what Kanchan was going through, found ways to support her and be in a healthy relationship with her.
(During the phone mentoring program, Mentor Anjali referred Kanchan for psychosocial counseling. CarNetNepal later arranged free counseling for Kanchan at Mamata Reading Zone, one of CarNetNepal Network Partner, working in psychosocial counseling in Kathmandu.)