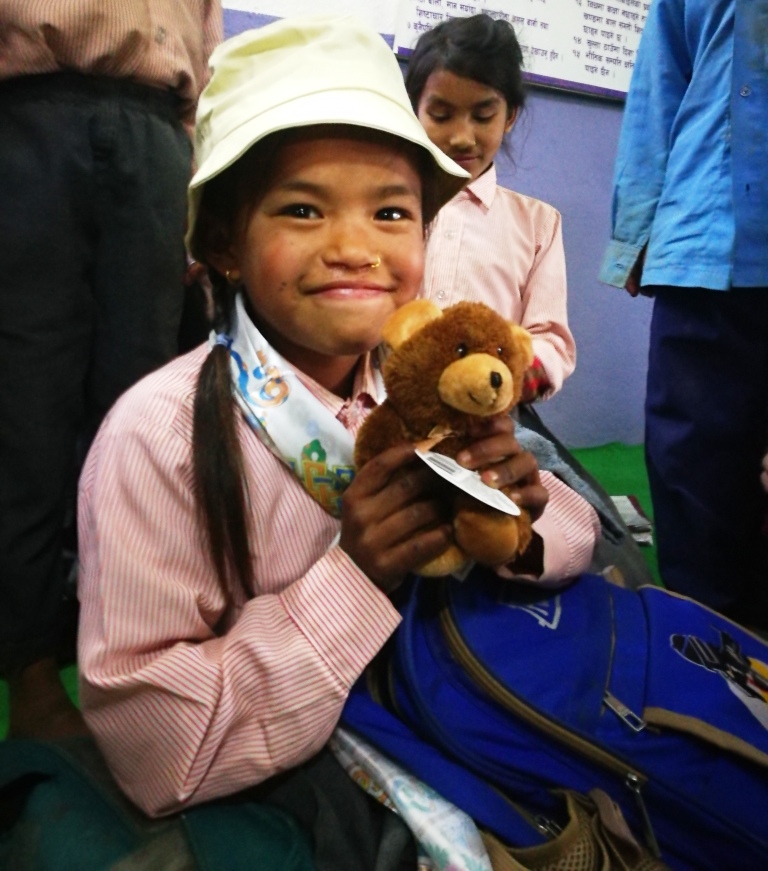 Sikha Tamang, age 8, lives in Kispang Rural Municipality-5, Karkigau, Nuwakot, Nepal (4.5 hrs bike ride from Capital to Karki Gau). Majority of people lived in her village are from Indigenous Tamang Community and then so called lower caste B.Ka community. Both communities are considered most vulnerable in the region due to their poor economic background, less access to education and traditional lifestyle. . These community people based on seasonal daily wages labor jobs.  In absence of job opportunities and have no higher education, the young men and women often end up with low pay job in gulf countries. The people from Tamang and B.Ka. Communities mostly indulge themselves in alcohol and do not have records of being involved in high professional jobs except few. Early marriage is a big issue in this community (before completing their basic education), resulting no proper family manage.
In order to promote child protection and education in the village CarNet started Child Learning Center (CLC) with the help of local community leaders. In CLC children from poor economic, single parent, socially excluded family children are provided with after school tution, one time meal, school stationaries and uniform. Shikha is one of them. Before her enrollment in CLC, her mother is facing difficulty to send her two daughters to school, as her husband is not supporting her financially despite being in a gulf country for work for many years. Her only income source is her small fast food shop in the village, which is not enough to cover all the expenses of the family.
Despite being good at study, Sikha started to miss classes in absence of enough school materials. The school management got worried, as they are soon going to lose one of their best students. On the other side, Sikha's mother did not want her daughter to end up with the same fate she had. Her mother got married at an early age of 14, when she was studying in class 5. She wanted her daughters to complete their higher studies and looking for support in school for her daughters. After knowing the situation of Ms. Tamang, the school Principal of Shree Jay Buddha Basic School- Navraj Bhatta recommended Sikha to CLC.
Sikha is a bright student studied in grade 3 but at the beginning of her days in CLC, Sikha used to stay quiet and less active in CLC activities. As days passed by she started to opened up and actively take part in games and arts. She made new friends and love to play with them. Sonika, Minsa, Manjari and Prabin are the new close friends she found in CLC.  Sikha always good at her study but now her studies has improved even more. Even when CLC's day off she come to meet her teacher in CLC and take her help to complete difficult assignments. According to CLC teacher Kumari Tamang, "Sikha is a sincere student. She completes all her work on time and helps other in their studies. In the first terminal school exam, Sikha has secured first position in her class and received first prize from her school and encouragement gift from CLC."
According to Sikha's mother, "Sikha used to be a naughty child at home, who did not listen to her and used to disobey her but now she is more obedient and helped her to do small household chores. She helps her by saying that CLC teacher has taught them to be good at home and help their parents. She also time and again teach her mother about personal hygiene." Last month Sikha was appreciated in CLC for showing improvement in her personal hygiene and being neat and clean. Sikha mother's felt that CLC has given her daughter a kind of maturity of understanding the situation of her surrounding she has never expected in her age.  Her daughter learned to share her things with others after her enrollment in CLC. She is happy to see her daughter's improvement not only in studies but also in extra curriculum activities.